Bea Alonzo is MYX celebrity for the whole month of August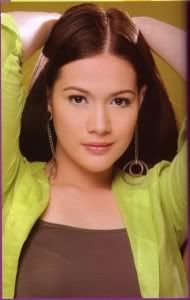 Definitely one of the hottest actresses and finest leading ladies in the industry today, Bea Alonzo graces the MYX Studio as the MYX Celebrity VJ for the month of August.

Bea Alonzo has been in the acting industry for five years now and though it may seem like a very short time, Bea has already shown her talent with her versatility by taking on different roles, appearances in numerous TV shows, and starring in blockbuster films.

A music lover herself, Bea not only appreciates music but actually has a talent in making music! Aside from being a certified brilliant actress, she can now add being a singer to her resume.

Bea showcases her unique voice with the release of her debut album entitled "Bea Alonzo, The Real Me" which features "I'm Missing You" originally recorded in 1999 by Swedish artist Meja, "You" by Jim Brickman, "I'll Always Love You" by Michael Johnson, "Close To You" originally performed by Whigfield and "I ? Betty La Fea's" theme song, "Kagandahan".

The album's increasing sales is another proof that she has a promising career in singing.






JoKer DeTor
Showbiz Top i-News

Please send your comments, suggestions, and reaction to our email address...



sti_n23@yahoo.com



Please dont forget to put a comment on each article. Thanks!

Your thoughts are important to us. So be it!